Jenny's early life
My story begins on the rural outskirts of a small town in Mississippi. My father was a cotton farmer, but he also ran a few cattle and finished pigs. We also had numerous pets, including dogs, cats, horses, and sheep. I think I was born knowing that one day I would be a veterinarian, and I started early doctoring any animal whom I thought needed extra attention. My brother and I were involved in the 4-H program, showing pigs and sheep, an experience that only strengthened my dedication to becoming a veterinarian.
I always had a particular fondness for horses, but living in a tiny, rural town, I was not aware that someone could specialize solely in one species. Our family veterinarian, Dr. Flynn, was an amazing mentor. He patiently answered any questions I had, and would take phone calls from me when I was only 5 years old to explain what was happening with my kitty cats. He was the one who started me on the path to become an equine veterinarian. He helped me set up externships at equine practices in Ocala, Florida, after my high school senior year, when I could ride along and learn about an equine veterinarian's lifestyle. I loved the experience, and my goal switched from becoming a veterinarian to becoming an equine veterinarian. 
Education
At the time, Mississippi State University College of Veterinary Medicine (MSU-CVM) offered an early entry program that allowed you to enter veterinary school after three years in an undergraduate program, as long as your grade point average was sufficiently high. My entire family are huge MSU fans, so I never considered any other option. I studied hard for those three years, and entered veterinary school in 1998. Vet school was, at times, grueling, but I learned so much, and met many wonderful people. I traveled to several states to participate in equine externships, including Alabama, Louisiana, Florida, New Jersey, and North Carolina. Once I graduated from vet school, I went to Louisiana State University (LSU) for an equine surgery and internal medicine internship. 
The year at LSU was extremely challenging. The hours were long, and sometimes days would go by before I left the hospital. However, I learned from excellent veterinarians, and I also enjoyed the student interactions. At the end of the year, I decided that I would not pursue a residency, and I accepted a position at an equine ambulatory practice in northern Virginia. 
Equine ambulatory practice
We served a large practice area, going from farm to farm treating all kinds of horses. I developed an affinity for treating eyes, and I also really enjoyed suture jobs. As is true in any equine practice, our days ended when the horses stopped being sick and hurt, which could be 5 p.m. or 3 a.m. You never knew what your day would look like. We shared on-call duty between six full-time veterinarians, but the hours could still be extremely demanding. After more than 16 years in the same practice, the other veterinarians and vet techs had become my second family, but I felt I needed a change. 
Life at Rumpus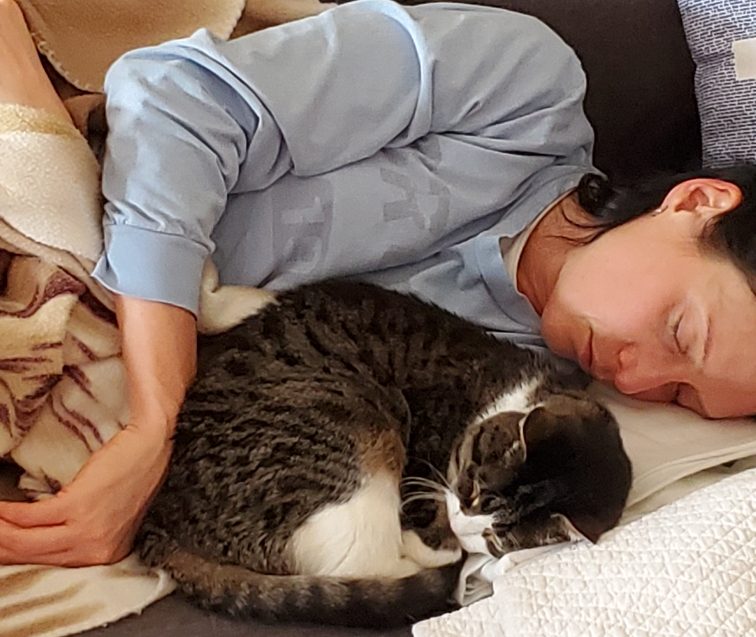 I have always been an avid reader, and I had always wanted to try my hand at writing. I took a few online writing classes to refresh my skills, and I applied for a writing job at Rumpus Writing and Editing. The owner, Sarah Rumple, offered me a full-time position in April 2021. I was so excited to accept this position that seemed to fit me perfectly. I now work from home and make my own hours. I tend to be an early bird, and use the morning hours to get much of my work done. No one else is up at 5 a.m., so that is the perfect time to concentrate and let the creative juices flow. I typically take a break mid morning to work out—I like spin classes and bootcamp sessions. After a shower, I get back to work to finish my projects for the day. On occasion, I may take a quick nap with my cat, Casey, to rest my eyes and refresh my brain.
I love that I am able to use my veterinary knowledge to help other veterinarians by providing content so they can pursue their passion in practice. Practicing veterinary medicine is stressful, and any way I can help relieve some of that pressure for my fellow veterinarians makes me happy. If you are a veterinarian and writing isn't something you have time to tackle, do not hesitate to contact us for help.