In the veterinary industry, February is not about heart-shaped boxes of chocolate and flowers—except for when the chocolates are eaten by an ornery Lab or the lilies end up in a cat's paws. 
Instead, February is all about dental health. Whether you offer a dental services discount or simply use the occasion as a reminder to educate your clients about periodontal disease, you likely feel pressure to come up with fresh and engaging marketing content every year. If you wrote the obligatory blog post and a few corresponding social posts about dental disease last year, you may be tempted to dig up those old posts and publish them again this year. Your clients won't notice, right?
Maybe not. But, Google has an elephant-like memory, and reposting old content won't score you SEO points. Plus, the same old stages-of-periodontal-disease blog doesn't make for the most exciting content. 
So, how do you make dental disease sexy? Address the topic from a fun, new angle that is different from past years and other local practices. Here are five ideas about how to give your dental month marketing a glow-up.
#1: Tell a true(ish) pet story
No one can resist a cute pet story, whether it is true or "based on real life events." As Rumpus's COO, I read more than 250 articles and blog posts each month, and I perk up whenever a narrative about a pet fills my screen. A story is a fun, creative way to share important facts and statistics that can easily become dry, boring content. Check out the introduction to this blog from one of our writers:
As Diamond the tortie entered our hospital, we could hear her yowls of displeasure clear to the back of the building. Diamond is no fan of car rides and is always reluctant to enter her carrier at home, and equally reluctant to leave when she arrives at our hospital. Over many years of caring for Diamond, however, we have learned what makes her tick—and how to keep her and our team safe during an exam.
The blog goes on to narrate Diamond's dental exam, complete with resorptive lesions, and how the veterinary team treated her issues. Blogs written from a pet's perspective are even more engaging, but avoid being too cutesy, or your message may be lost.
#2: Create a FAQs blog about pet dental disease
When clients struggle with topics to write about, I encourage them to think about the questions they answer most frequently. Along the same lines, jot down the dental-related questions you answer over and over again, and you will quickly have the outline for a frequently-asked-questions blog. 
#3: Highlight dental health myths
In addition to dental questions, you could likely write a long list of dental misconceptions and myths. Call an impromptu lunch meeting, and gather your team's most amusing client misunderstandings—you will have a list in no time. Here are a few to get you started:
Most pets do not develop dental disease until they are older

Bad breath is normal for pets

Dogs who chew on bones do not need to have their teeth cleaned

Pets who have their teeth cleaned by a groomer do not need professional dental cleanings
Write a quick introduction, and then number your myths, following each with a brief explanation of the truth.
#4: Run a before-and-after contest
Dental cleanings are some of the most rewarding procedures because you can see immediate results. Take before and after photos of your dental patients throughout the month, and post the photos daily on your social media platforms. Owners will love seeing their pets' pearly whites showcased, and some followers may be motivated to schedule their own pet's procedure.  At the end of the month, reward the biggest oral transformation with a gift basket loaded with dental care essentials.
#5: Help pet owners make good choices with "Chew this, not that" posts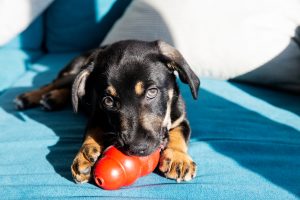 Pet owners know that chewing is good for their pets, but they often have no idea how to choose safe chew toys. Every few days, post photos of an unsafe chewing option (e.g., bones, antlers, hooves), along with a safe alternative (e.g., stuffed Kong). Toward the end of the month, compile the safe and unsafe options into a round-up style blog post.
Digital marketing often sounds more intimidating than it is, and your daily conversations with pet owners can provide a wealth of inspiration. However, if you find yourself too busy to tackle blogs and social media content, contact us to find out how we can help.